8 Pineapple Recipes For 88 Pineapples
10 min read
Today we are focusing on the note pineapple, found in our 88 Pineapples fragrance. While we would love to give you 88 pineapple recipes both you and I would be here forever so we'll just stick to 8 for now!
1. Pineapple upside-down cake
Starting with a classic we have pineapple upside down cake,  a retro favourite that's stood the test of time for good reason. Moist, tangy and easy to make, it's a great make-ahead dessert served with ice cream or custard.
Ingredients
425g tin pineapple rings in juice (drained weight 250g)
4 tbsp soft light brown sugar
235g/8oz unsalted butter, softened, plus extra for greasing
175g/6oz caster sugar
3 free-range eggs, beaten
½ tsp vanilla bean paste
175g/6oz self-raising flour
1 tsp baking powder
pinch of salt
2 tbsp milk
Method
Preheat the oven to 180C/170C Fan/Gas 4. Butter the sides of a deep 20cm/8in cake tin.

Drain the pineapple slices and leave to dry on kitchen paper. Put the soft brown sugar and 60g/2oz of the butter in a small frying pan and melt over a medium heat. Spoon into the prepared cake tin. Cut seven of the pineapple rings in half to make semi-circles and arrange around the tin – you may only need six of the rings depending on how tightly you pack the slices. Place the remaining whole ring in the middle of the tin.

Cream the remaining 175g/6oz butter and the caster sugar together until pale and light. Gradually add the eggs, mixing well between each addition. Add the vanilla and mix again.

Sift the flour, baking powder and salt into the bowl, add the milk and mix until smooth. Carefully spoon over the pineapple slices and spread level.

Bake for 30 minutes, or until risen, golden brown and a skewer inserted into the middle of the cake comes out clean.

Leave the cake to cool in the tin for 1 minute and then carefully turn out onto a serving plate and leave to cool. This cake is best served slightly warm or at room temperature, with vanilla ice cream, lightly whipped cream or custard.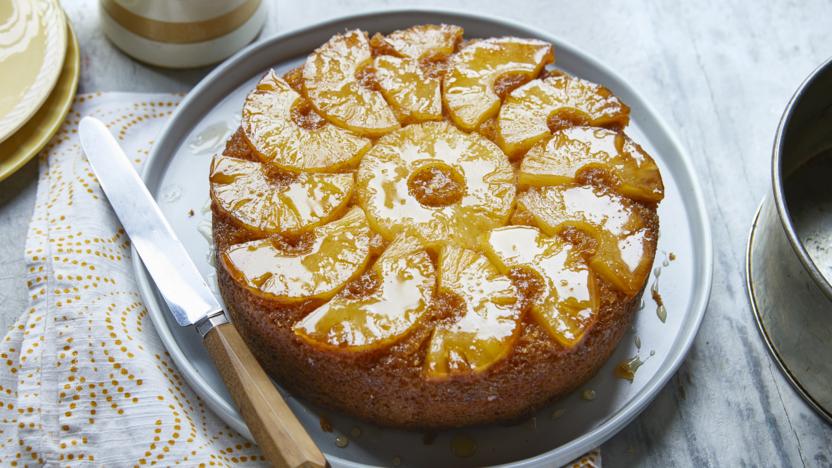 Photo from bbc.co.uk
2. Sweet and sour chicken
You've tasted sweet and sour chicken at the takeaway, but you can make it far better at home and it's much healthier! The Hairy Bikers show you how.
Ingredients
For the chicken
½ small pineapple
2 boneless, skinless chicken breasts
2 tbsp sunflower oil
1 onion, cut into wedges
1 red pepper, deseeded and chopped
1 green pepper, deseeded and chopped
1 tbsp cornflour
4 spring onions, trimmed and thinly diagonally sliced
For the sauce
1 tbsp cornflour
300ml/10fl oz fresh pineapple juice
2 garlic cloves, crushed
25g/1oz piece fresh root ginger, peeled and finely grated
1 tbsp dark soy sauce
2 tbsp white wine vinegar
2 tbsp soft light brown sugar
3 tbsp tomato ketchup
1 pinch dried chilli flakes
freshly ground black pepper
Method
To make the sauce, put the cornflour in a small bowl and stir in two tablespoons of the pineapple juice until smooth. Put the remaining pineapple juice in a separate bowl and stir in the garlic, ginger, soy, vinegar, sugar, ketchup and chilli flakes until thoroughly combined. Set aside.

Put the pineapple on a board and cut off the skin. Quarter lengthways and remove the tough central core. Cut the pineapple into thick slices and set aside. Cut each chicken breast into seven to nine even pieces (depending on size).

Heat the oil in a large non-stick frying pan or wok and stir-fry the onion and peppers for three minutes over a high heat. Coat the chicken in the cornflour and add to the pan. Stir-fry for four minutes until very lightly coloured on all sides.

Add the pineapple and sweet and sour sauce to the pan with the chicken and bring to a simmer over a medium heat. Cook for 4–5 minutes, stirring regularly until the chicken is cooked through and the pineapple is hot.

Stir in the cornflour and pineapple solution mixture and cook for 30–60 seconds until the sauce is thickened and glossy, turning the chicken and vegetables until nicely coated. Sprinkle with sliced spring onions and serve hot.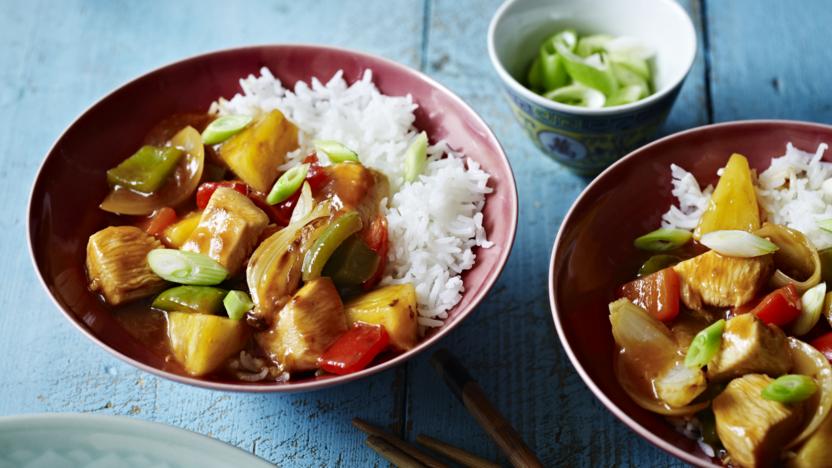 Photo from bbc.co.uk
3. Jerk pork tacos with corn and pineapple salsa
Slow-cooked, tender pulled pork is served with a spicy salsa for a flavour-packed dinner.

Ingredients
For the jerk marinade
8 tsp allspice berries, toasted
1 cinnamon stick, broken into shards and toasted
2 tsp coriander seeds, toasted
4 tsp thyme leaves
8 spring onions, roughly chopped
½–1 Scotch bonnet chilli, seeds removed
5 garlic cloves
2 tsp grated nutmeg
½ thumb-sized piece fresh root ginger, peeled and roughly chopped
6 tbsp demerara sugar
2 limes, juice only
1 tsp soy sauce
4 tsp vegetable oil
salt and freshly ground black pepper
For the jerk pork
jerk marinade (see above), 2 tbsp reserved
4 tbsp tomato purée
1.5kg-2kg/3lb 5oz-4lb 8oz pork shoulder, skinless and boneless, slashed a few times with a sharp knife
2 oranges, juice only
2 tbsp very dark maple syrup
salt and freshly ground black pepper
For the pickled onion
1 red onion, thinly sliced
¼ Scotch bonnet chilli, seeds removed and finely diced
2 radishes, thinly sliced
3 limes, juice only
pinch salt
For the jerk aïoli
1 free-range egg yolk
1 tsp Dijon mustard
2 garlic cloves, grated
115ml/3¾fl oz olive oil
1 heaped tbsp jerk marinade (see above)
1 lemon, juice only
salt and freshly ground black pepper
For the salsa
2 corncobs
1 tbsp rapeseed oil
2 spring onions, trimmed
½ red pepper, finely diced
100g/3½oz pineapple, chopped
pinch cayenne pepper
½ tbsp olive oil
1 tsp lime juice
1 tsp finely chopped fresh coriander leaves
1 tsp finely snipped fresh chives
1 tsp finely chopped fresh flatleaf parsley leaves
sea salt flakes and freshly ground black pepper
To serve
4x12cm/4½in corn tortillas, preferably blue
micro coriander sprigs
toasted peanuts, roughly chopped
lime wedges
Method
To make the marinade, place all the ingredients into a food processor and blend until it forms a fairly smooth paste. Season with salt and pepper.

To make the jerk pork, mix all but 2 heaped tablespoons of the jerk marinade and the tomato purée in a small bowl. Massage into the pork and, if possible, leave to marinate in the fridge overnight. Set aside the remaining 2 tablespoons of the marinade.

When ready to cook the pork, preheat the oven to 150C/130C Fan/Gas 2. Place the pork in a deep baking dish, pour in the orange juice and cover with kitchen foil, ensuring that it is sealed at the edges of the dish but tents over and does not touch the pork. Roast for 5–7 hours, until the meat is falling apart. Check now and again to make sure the dish has not dried out and top up with orange juice if needed.

Increase the oven to 200C/180C Fan/Gas Mark 6. Remove the foil, brush the pork with the maple syrup and continue to cook for another 30 minutes, until crispy and sticky. Remove any fatty bits of meat, then use a fork to pull the pork apart. Mix in another tablespoon of the jerk marinade and season with salt and pepper. Reserve the remaining marinade.

To make the pickled onion, place all the ingredients in a bowl, mix well and leave to infuse.

To make the jerk aïoli, mix the egg yolk, mustard and garlic together in a bowl. Very gradually whisk in the oil, making sure each drop is fully incorporated before adding more. Add the jerk marinade and lemon juice and season with salt and pepper. Cover and keep in the fridge until ready to serve.

To make the salsa, heat a griddle pan until very hot. Rub the corncobs with the rapeseed oil and sprinkle with a little salt and pepper. Place the corn on the griddle pan and cook for 7 minutes, turning regularly to ensure that the charring is even. Place the corncobs in a bowl and cover for 5 minutes to allow the corn to tenderise.

Meanwhile, place the spring onions on the hot griddle pan and cook for 3 minutes, or until charred, turning half way through. Finely chop the charred spring onion and add to a serving bowl, along with the red pepper and pineapple.

Stand the corncobs on their ends and, using a knife, carefully slice down the ear to carve the kernels away. Add the kernels to the pepper mixture. Separate any connected kernels then add the cayenne pepper, olive oil and lime juice and mix well. Scatter over the herbs and season with salt and pepper.

To serve, heat the tortillas in a hot dry frying pan until warm and darkened spots appear on both sides. Add some of the jerk pork (any leftover pork can be used in another recipe) to each tortilla. Add the salsa, drizzle generously with the aïoli and top with the pickled onion, micro coriander sprigs and toasted peanuts. Serve with lime wedges.
Photo by Pineapple Supply Co. on Unsplash
4. Sunshine baked oats
These baked oats taste like a tropical dessert – somewhere between a flapjack and a crumble, but for breakfast!

This is a quick and simple way to get some fruit into the family and it's made entirely from storecupboard ingredients. You can use fruit in juice or in syrup for this recipe; the former will have a stronger citrus flavour, the latter will be sweeter.
Ingredients
300g tin mandarins in juice
432g tin pineapple chunks in juice
70g/2½oz mixed dried fruit or sultanas
120g/4¼oz porridge oats
pinch of ground cinnamon (optional)
To serve (optional)
Method
Preheat the oven to 180C/160C Fan/Gas 4 and place a shelf in or just below the centre.

Strain the liquid from both tins into a measuring jug. I gently push the fruit down in a sieve to get the most out of it without squishing it to a pulp. If the liquid is short of 350ml/12fl oz, add cold water to make up the difference.

Put all the fruit and oats into a baking dish and stir gently to distribute the fruit evenly. Pour over the liquid and stir again. Sprinkle over the cinnamon, if using.

Bake for 40 minutes, or until plump and golden-brown. Leave to cool for a few minutes before serving. The oats can be enjoyed as they are, or with a splash of milk or a dollop of yoghurt.
Recipe Tips
To make this vegan, serve with plant milk or vegan yoghurt.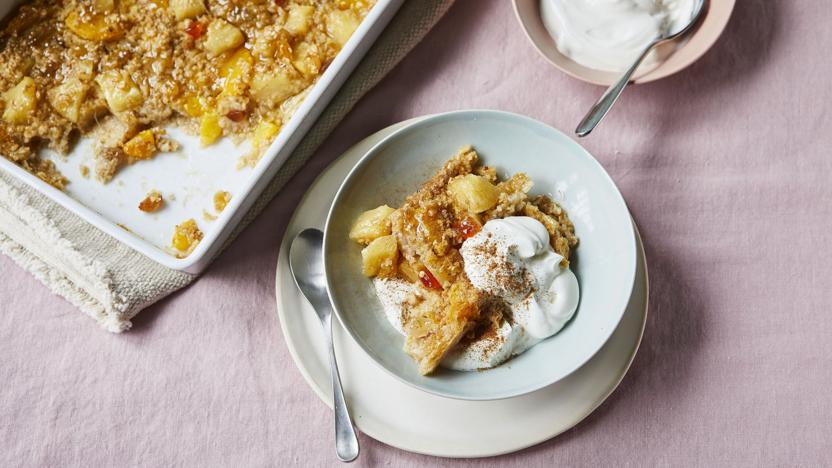 Photo from bbc.co.uk
5. Pineapple pork
Ham and pineapple isn't just for pizza.
Ingredients
450g/1lb pork fillet
1½ tbsp groundnut oil
1 garlic clove, crushed
3 tbsp coarsely chopped fresh coriander
1 tbsp dark soy sauce
2 tsp sugar
225g/8oz fresh or tinned pineapple, chopped
For the marinade
2 tsp light soy sauce
2 tsp Shaoxing rice wine or dry sherry
1 tsp sesame oil
2 tsp cornflour
For the garnish
handful fresh coriander sprigs
Method
Cut the pork into thin strips about 5cm/2in long. In a medium bowl, combine the marinade ingredients. Add the pork, mix well and leave to marinate at room temperature while you prepare the other ingredients. Drain, discarding the marinade.

Heat a wok over a high heat until it is hot. Add the oil, and when it is very hot and slightly smoking, add the garlic and stir-fry for 15 seconds or until golden brown.

Add the pork and stir-fry for 3 minutes.

Finally, add the pineapple, coriander, soy sauce and sugar and continue to stir-fry for 3 minutes.
Photo by Heather Ford on Unsplash
6. Kidney bean and pineapple curry
The combination of fruit and beans may sound an odd one but trust us on this one!

Ingredients
1 large onion, finely chopped, or 140g/5oz frozen diced onion
1 tbsp vegetable oil
1–2 tbsp garlic and ginger paste
2 tbsp medium curry powder
432g tin pineapple chunks in juice
400g tin kidney beans, rinsed and drained
2 x 400g tins chopped tomatoes
salt and black pepper
To serve
basmati rice
fresh coriander (optional)
Method
Put the onion in a large non-stick pan, add the oil and a generous pinch of salt, and cook over a medium heat for 5 minutes, or until the onion starts to soften.

Add the garlic and ginger paste and stir in well, then stir in the curry powder. Pour in the pineapple, along with all of the juice. Add the kidney beans, then the tomatoes, and stir well. Season generously with black pepper and simmer for 30 minutes, stirring occasionally to prevent the curry from sticking and burning. You may need to add a splash of water to stop it from drying out.

Serve hot, with basmati rice and coriander, if using.
Recipe Tips
If you have a blender, you can blend half of the pineapple with the chopped tomatoes to make a sweet and sour sauce base.
This is a dish that improves over a day or two, so leftovers are even more delicious.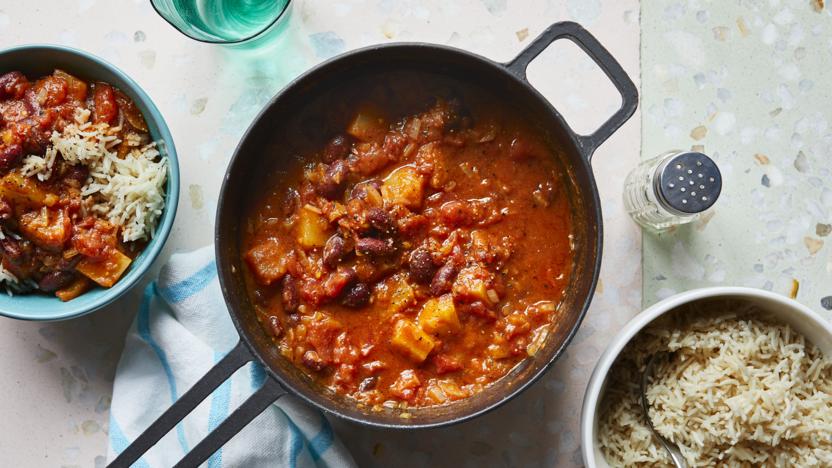 Photo from bbc.co.uk
7. Quick pineapple cheesecake
Cheesecake for one made easy. You can use any tinned fruit or biscuits that you have in the cupboard!
Ingredients
3 ginger biscuits
1 tbsp butter
5 tbsp full-fat cream cheese
2 tbsp double cream or coconut cream
2 tbsp icing sugar or caster sugar
½ lime, zest and juice
½ 230g tin pineapple chunks or 1-2 pineapple rings in juice, cut into 8 small wedges
Method
Put the biscuits in a small, reusable freezer bag and bash gently with the bottom of a saucepan or rolling pin, to make fine crumbs.

Melt the butter in a small saucepan or microwave and stir in the biscuit crumbs.

Spoon the buttered crumbs into the base of a glass tumbler. Use the back of a spoon to press down lightly.

Put the cream cheese, double cream, sugar, lime zest and juice in a bowl. Add 2 teaspoons of the pineapple juice from the can and whisk until thickened.

Spoon the creamy filling onto the biscuit base. Top with the pineapple chunks then place in the fridge for 30 minutes. Decorate with extra lime zest if you like.
Recipe Tips
Just multiply the ingredients to make several individual cheesecakes.
Photo from bbc.co.uk
8. Upside-down pineapple pancakes
Try these pretty pineapple pancakes for a special brunch or as a quick dessert served with coconut ice cream
Ingredients
135g/4¾oz plain flour
1 tsp baking powder
pinch salt
1 tbsp caster sugar
125ml/4½fl oz milk
1 free-range egg
2 tbsp melted butter, plus extra for cooking
435g tin pineapple slices, drained
maple syrup, to serve (optional)
Method
Put the flour, baking powder, salt and sugar into a large bowl.

Pour the milk and melted butter into a jug, crack in the egg and whisk well using a fork.

Pour the liquid into the flour mixture and, using the fork, beat until smooth.

Melt a knob of butter in a frying pan over a medium heat. Add two small ladlefuls of batter to create pancakes a little larger than a pineapple ring. Leave to cook for 15 seconds, then top each pancake with a pineapple ring.

When the top of the pancake begins to bubble, turn it over and cook until golden brown and the pancake has risen to about 1cm/½in thick.

Repeat until all the batter is used up. Serve the pancakes with maple syrup if you like.